Ielts by sir sm imran at ielts institute in karachi - Karachi
Monday, 19 March 2012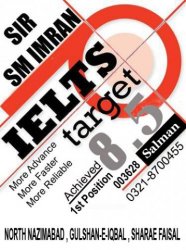 Contacts

sir sm imran
03218700455
Item description
Pakistan's 3rd position in IELTS 7.5 BAND got by my student
Listening 7.0
Reading 7.5
Writing 8.0
Speaking 7.0
Asfia. ID NO. 003910
Just trust me & join me at gulshan, north or sharae faisal, if u need to get a position. Here u always find the best quality service in IELTS.
urs truely
Sir sm imran
A perfect place to score
8.0 band in IELTS.
Lastest Result of 2011
Syed waqas got 8.0 band
L 9.0 band
R 8.5 band
W 7.0 band
S 8.0 band
CN NO. 004652 AC
If u realy need 7.0 band in each module then
SIR SM IMRAN is the last hope 4u who can actualy help u achieve ur desire band.
Repeating IELTS wil only disheart u from applying.
So b4 it is too late, join sir sm imran
"The talent that is hidden inside u wil b utilized".