Best IELTS Preparation in Karachi - Karachi
Monday, 7 May 2018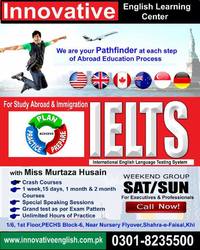 Contacts
Sonia Khan
+923018235500
Item description
Innovative English Learning Center offers
IELTS Preperation by
Miss Murtaza Husain with 19 Years Experience
Salient Features:
1 WEEK and 15 days Crash course.
1 Month and 2 Month Programs.
Monday to Friday Classes.
SAT & SUN Classes for EXECUTIVES.
Special English Classes for IELTS students.
UNLIMITED HOURS OF PRACTICE
1/6 C, Block 6 PECHS Near Nursery flyover Shahraefaisal.
Call 03018235500 or 34551665 for details.